Alaska Gun/Firearm Bill of Sale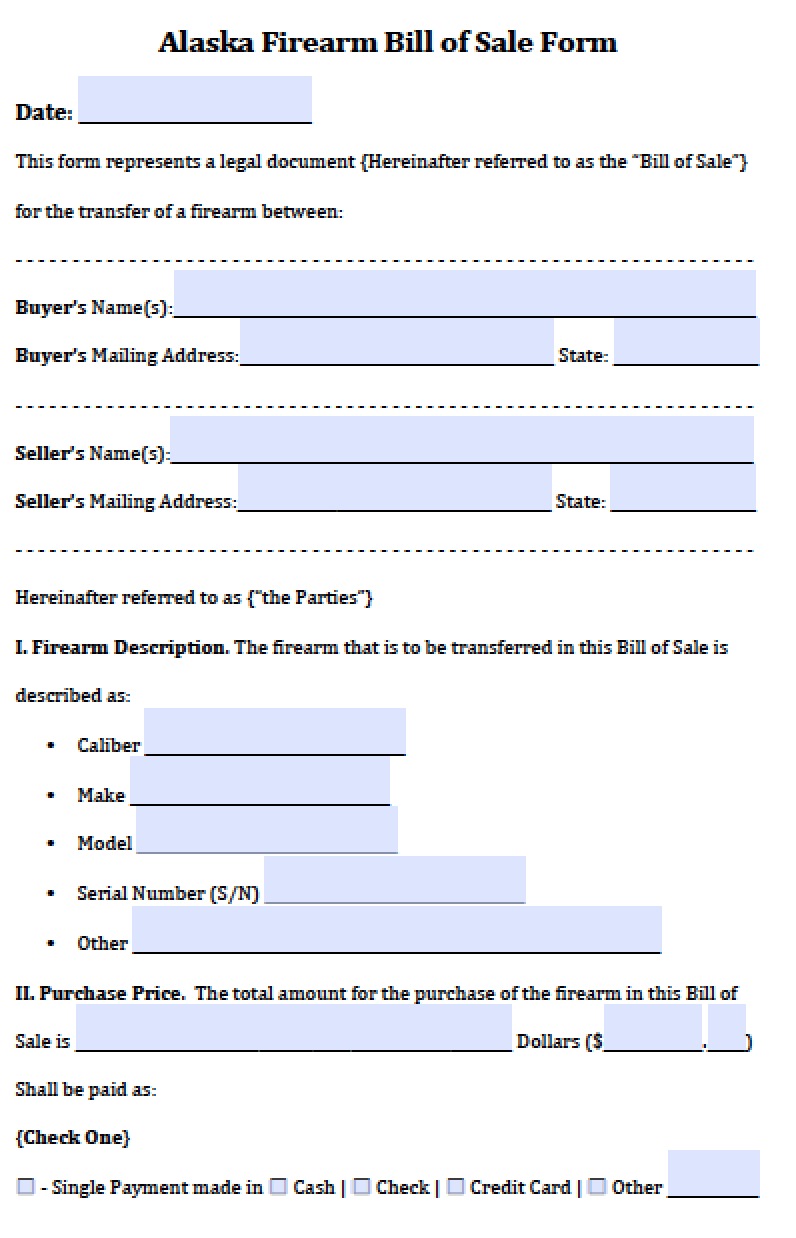 6,041 Downloads
The Alaska firearm bill of sale form allows for a person that owns any type of gun to be able to sell it t someone else. The serial number must be visible and the new owner must be eighteen (18) years of age and have no limitations against themselves owning a firearm.
There are no restrictions or permits an individual must obtain in order to own a firearm in Alaska. Also, the new owner does not need to register the gun with any governmental authority.
How to Register for a Concealed Handgun
Fill-in Application (Form 12-299A)

Attach fee for $91.50
Attach fingerprints with the FBI fingerprint card. An applicant may get their fingerprints taken at any approved centers.
A photo must be taken and put into the application. The photo must have been taken within the last thirty (30) days.
How to Fill Out the Alaska Bill of Sale
The following blank sections must be filled-in to legally complete the bill of sale document. Beginning with the following;
The Parties
Date of Sale
Buyer's Name (First, Middle, and Last)
Buyer's Mailing Address
Seller's Name (First, Middle, and Last)
Seller's Mailing Address
Firearm Description
Caliber
Make
Model
Serial Number (S/N)
Other Information (if any)
Terms of Purchase
Price
Payment Options
Single Payment
Downpayment with the balance due on a later date
Download with the balance due on a promissory note
Condition of Firearm
Additional Details
Signature Page
Both parties must print their name and sign
Witnesses (if any)
Notary Public (if any)
Buyer and Seller's Disclosure