Utah Motor Boat/Vehicle Bill of Sale – TC-843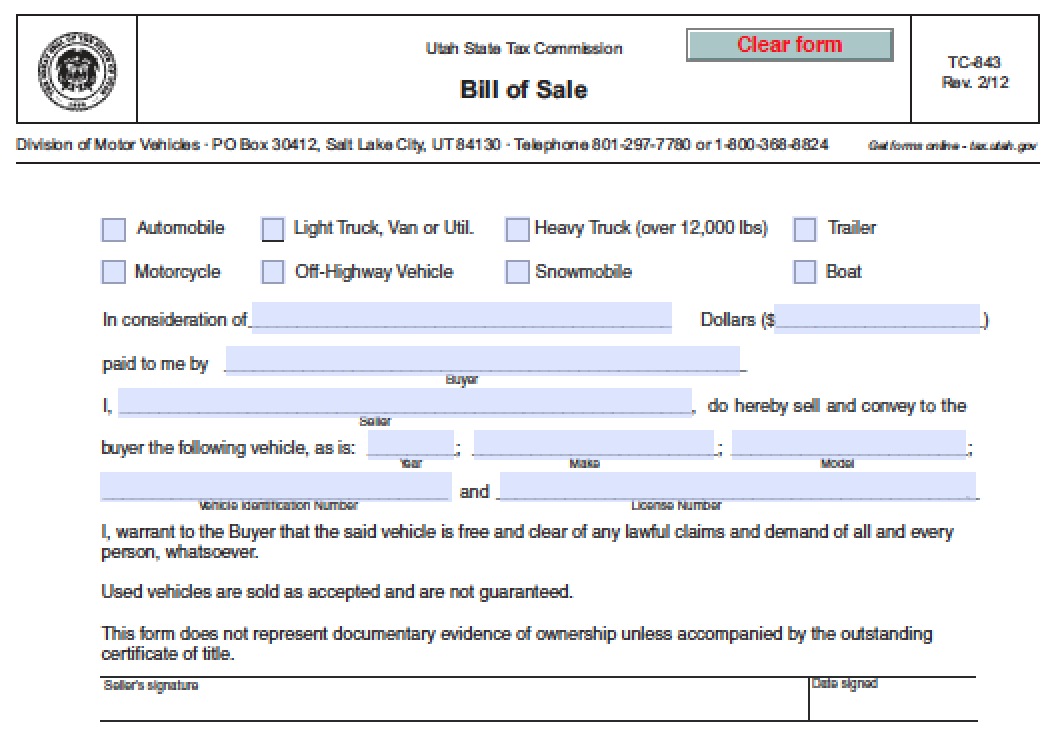 9,860 Downloads
The Utah motor boat/vehicle bill of sale, also known as Form TC-843, is to be used for the transfer of any automobile, motorcycle, off-highway vehicle, snowmobile, boat, or trailer from one individual/entity to another. The parties should agree to transfer possession of the item(s) and monetary funds on the same day of signing the bill of sale. Identification of the parties should be present at the time of sale.
Versions
Laws
Vehicle Registration Forms
To be returned to a Department of Motor Vehicle Location
Boat Registration Forms
To be completed at a Department of Motor Vehicles (DMV) Office.
How to Write
The buyer and seller should input the following information into the document:
Check Box for: Automobile, Boat, Trailer, Light Truck/Van/Utility Vehicle, Heavy Truck (over 12,000 lbs), or Off-Highway Vehicle
Purchase Price (in Dollars$)
Buyer's Full Name
Seller's Full Name
Vehicle Info: Year, Make, Model, Vehicle Identification Number (VIN), and License Number
Seller's Signature and Date
The buyer should also request the Title and to have the Seller "sign it over" to the Buyer for ownership purposes.