Connecticut DMV (Vehicle/Boat) Bill of Sale (H-31)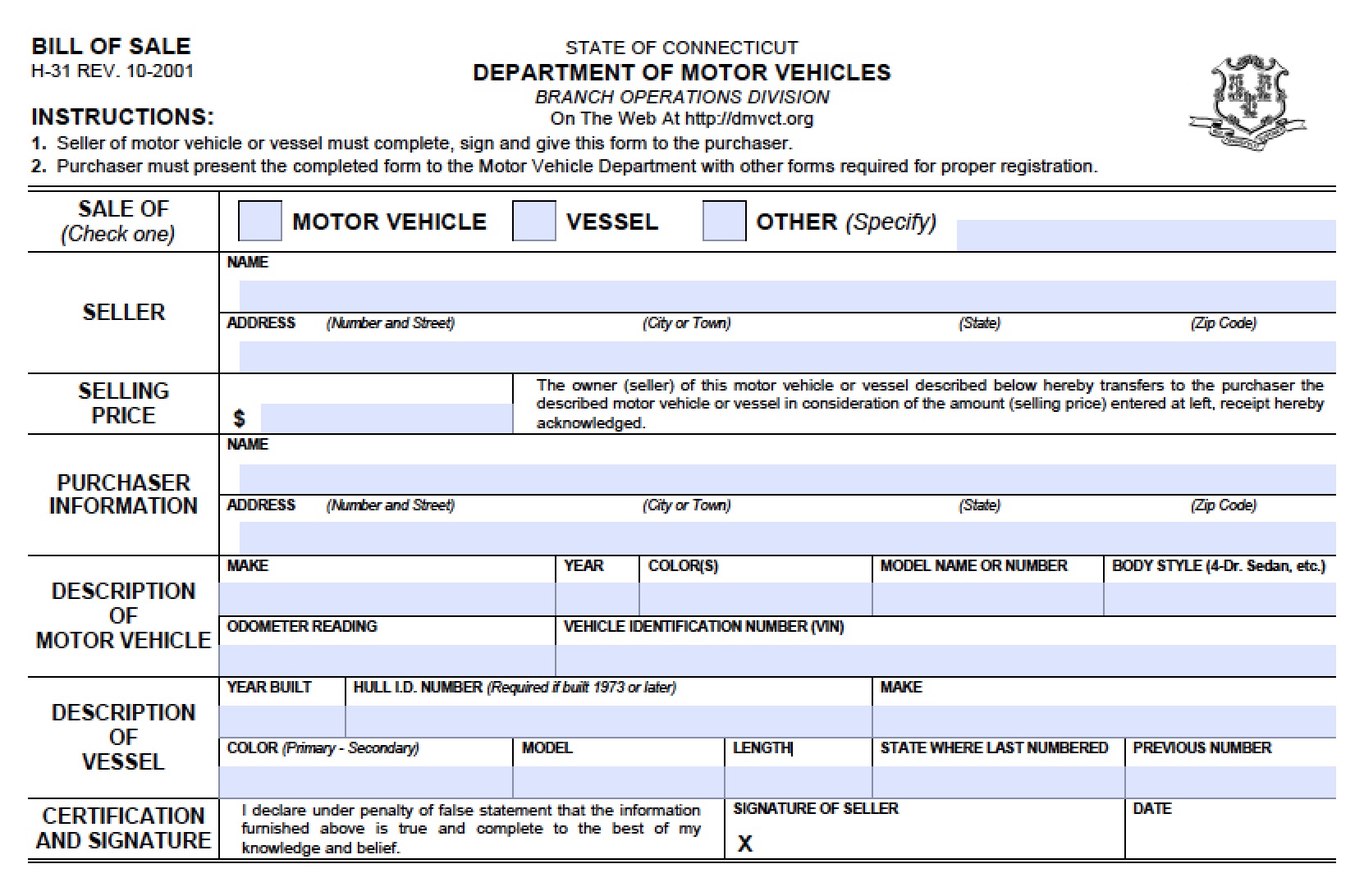 7,257 Downloads
The Connecticut DMV bill of sale, also referred to as the H-31, allows an individual or entity to sell a vehicle, vessel, All-Terrain Vehicle (ATV), snowmobile, or any type of motorized item that may be registered with the Department of Motor Vehicles.
Required Forms
If it is a motor vehicle that is being transferred that is under ten (10) years of age and below sixteen thousand (16,000) pounds the Odometer Disclosure Statement is required.
If the motor vehicle purchased was used, the vehicle is required to obtain emissions testing before registration. This can be completed at any Connecticut Emissions Testing Facility.
How to Fill-in Form H-31
The Connecticut bill of sale (H-31) may be completed by filling in the following;
Check what type of vehicle is being sold; Motor Vehicle, Vessel/Boat, or Other and fill-in with a description.
Seller's Information

Name
Address
City, State, Zip

Purchaser Information

Name
Address
City, State, Zip

Description of Vehicle (If Motor Vehicle)

Make
Year
Color(s)
Model Name or Number
Body Style
Odometer Reading
Vehicle Identification Number (VIN)

Description of Vessel

Year Built
Hull Identification Number
Make
Color (Primary – Secondary)
Model
Length
State Where Last Numbered
Previous Number

Signature of Seller and Date
As you may know from viewing the form, only the seller's signature is required.